Venus & Mona
Venus & Mona
by leslie bramn
March 15 - 30, 2013
Venus & Mona are twins. Two young, strong, hard-edged women that are trapped on the roof of their mother's double-wide mobile home. Their mother is at death's door but the sisters can't help but continue to wage war on one another. Meanwhile a demon circles the doublewide waiting for one of the combatants to slip and fall in his clutches. Part fantasy/part cruel reality and inspired by the writing of American mythologist Joseph Campbell; Venus and Mona asks questions about the war we wage with ourselves and each other, and when and if we ever figure out when it's time to grow up.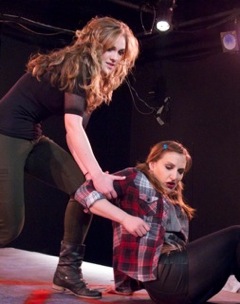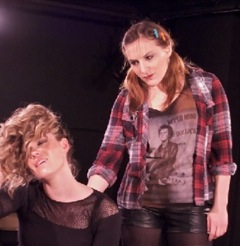 Reviews
"What will happen next? Who will live and who will die? It's a tense and fascinating ending that I recommend you experience for yourself. It's refreshing to hear dialogue that is so up to date, aggressive, bratty and also vulnerable. This play which has no males onstage is a special opportunity to see female characters who have overcome adversity to find their own way in life, yet enjoy the chance to bond using their unique language."
— NYTHEATRE.COM
Directed by: Kirk Gostkowski
Scenic design by: R. Allen Babcock
Poster Art by: Joenell Luma
Stage Manager: Chistopher Flores
Assistant Stage Manager: Christopher Schultz
Starring
Venus & Mona stars Christina Elise Perry* and Amy Newhall
features Becky London* as Officer Cortes.
*Appears courtesy of Actors Equity Association;
Venus & Mona is an AEA pending showcase
This marks the first production to come out of Minor Variations Project for new plays. One of the only workshops of its kind, The Minor Variations Project is designed to bring a second life to a play, by taking an already realized work and through collaboration between the playwright and actors, retools the piece. After a rigorous six month revision process culminating a staged reading, Variations Theatre Group is now presenting the first of these fully-staged productions.